primary gears z 24 / 72 with spring drive
Code: 6717308
Description
PRIMARY GEARS WITH FLEXIBLE COUPLING
6716313 z 27/69
6717308 z 24/72
The power generated by an engine, whether standard or elaborate, will end in itself if it is not transmitted to the wheels in the most efficient and effective manner, without unnecessary friction and a waste of mechanical energy.
Malossi, a leader in the production of high performance components for the world of motor scooters, has concentrated all its know-how in completely redesigning the primary transmission for the classic "small frame" Vespa, to ensure that maximum power is turned into road performance.
The new Malossi primary transmission for the Vespa is a true concentrate of engineering. From the high quality materials to the attention to detail and to the quality of the mechanical machining, everything is taken to a very high level. From the bronze bushing, to the clutch basket and to all the gears, everything is processed separately to ensure that each component is manufactured according to the highest quality standard.
The heart of the innovations introduced in this transmission is the new clutch bell, made of special, solid steel and characterised by six housings for the clutch discs, all six "active" and designed to lock the discs. In this way, all mechanical play is minimised, as well as the vibrations and resulting wear of the basket itself and of the guide teeth of the discs.
The new primary transmission is also completely detachable so as to be able to access the flexible couplings to change its springs. It is indeed possible to use different sets of springs to change the response of the flexible coupling depending on the various applications and what you want to achieve. The attention to detail is such that it was necessary to produce new bell-gear coupling screws specifically designed for this mechanical component.
The new Malossi primary transmission is extremely customisable; in fact, it is available in two different ratios: one intended for "easier" tuning, where the pinion/crown ratio is 24/72 teeth (final ratio 3) and another intended for more powerful engines, characterised by a pinion/crown ratio of 27/69 teeth (final ratio 2.55). Moreover, to each of the two options it is possible to couple a pinion (with 23 and 25 teeth for the 24/72 version and with 26 and 28 teeth for the 27/69 version) in order to find the desired ratio more accurately.
PINION
6717276B z 23/72
6717277B z 25/72
6717267B z 26/69
6717268B z 28/69
COMPLETE CODE

No. PINION TEETH

No. CROWN TEETH

PINION ACCESSORY CODE

No. ACCESSORY PINION TEETH

6717308

24

72




6717276B




6717277B






23




25




6716313

27

69




6717267B




6717268B






26




28



The new straight teeth gears minimise friction and energy dispersion; made with very high quality steel, they are cemented to ensure high surface resistance to wear caused by direct contact: in this way, they are guaranteed to last over time and they comply with all performance standards expected from a high quality product in the classic Malossi style.
Products reserved exclusively for racing in specifically designed locations according to the provisions of the competent sporting authorities. We disclaim all liability for improper use
Compatible brands and models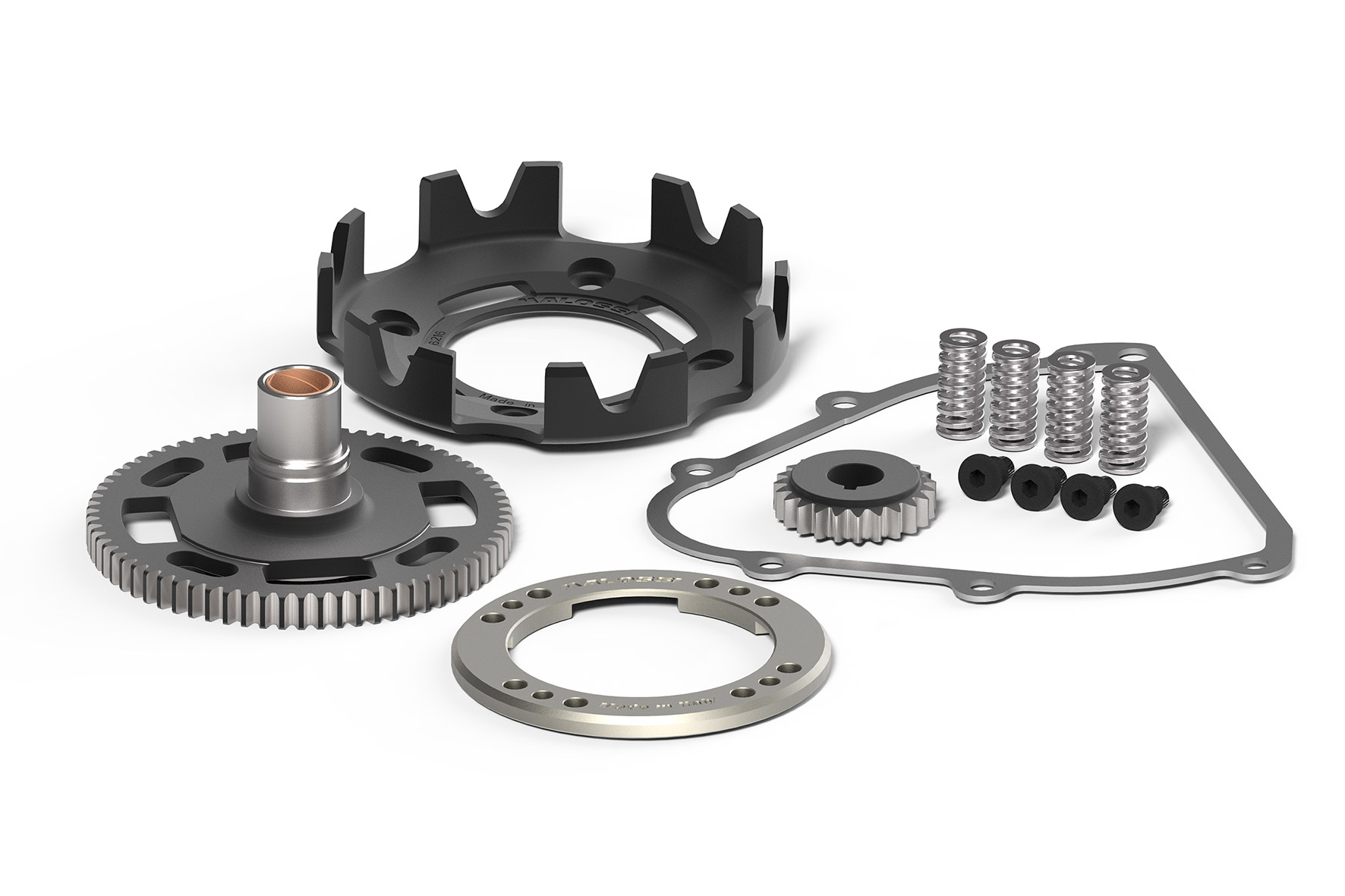 primary gears z 24 / 72 with spring drive
366.66
Add to cart