cast-iron cylinder kit ø 46,5 pin ø 10
Price
186.61€
-10%
167.95€
Available Sold and shipped by: Malossi Spa
cast-iron cylinder kit ø 46,5 pin ø 10
Code: 3118570
Description
PIAGGIO CAST-I-CYLINDERS KIT
Fun without complications
(6 transfer ports – 2 ring piston)
Malossi cast iron thermal units, the first and simplest step to modifying your motorcycl's engine, are the best choice for continued use of the exhaust system of an approved series or type.
For these thermal units, the elevated feature of durability of cast iron is combined with the almost manically high quality standards of Malossi, one of the few companies to demand the most from even this class of thermal units. Into this is inserted the most rigid selections for the joining of the cylinder and the piston, strictly maintained within a range of 20 microns maximum of tolerance.
The cylinder kit provides an increase in performance in terms of power and torque due to its new cast iron cylinder. The technical aspects of the bore and the exhaust fitting have been kept the same, but its complete redesign has led to the complete replacement of the port mapping, which now allows optimal coupling not only with our crankcases, but even with the original ones. Assembly of the cylinder kit on original crankcases requires only the boring of the cylinder liner hole.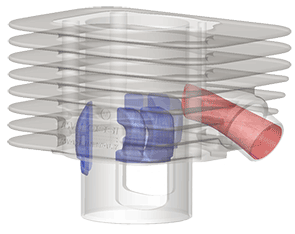 Comparisons to previous version: the exhaust has been redesigned both in terms of its reprofiled and resized geometries and its timing, which is tuned to intake times. The intake ports are perfectly symmetrical at the cylinder inlet and the flow path has a completely different orientation of the fresh gases at the entrance to the chamber. The rear transfer ports are the true revolutionary addition that have been redesigned using 'low profile chamber' technology with an improved tilt and, more importantly, a calculated continuity of flow-through areas. The union of the two rear inlets, with the classic "H" shape, allows optimisation of the pumping work, transferring as much energy as possible with minimal flow losses. These innovations result in greater uniformity in scavenging between the left and right sides, which leads to improved combustion and, consequently, an immense increase in the performance characteristics of two-stroke engines.
What's the result?
An unparalleled increase in performance, which puts our cylinders at the top of the range of cast iron cylinders on the market today!
| | |
| --- | --- |
| Use | Urban/Sport |
| Power range Ø 46.5 | 8-10 cv @8.500 rpm |
| Suitable tuning set-up | Original or homologated exhaust |
Products reserved exclusively for racing in specifically designed locations according to the provisions of the competent sporting authorities. We disclaim all liability for improper use
Compatible brands and models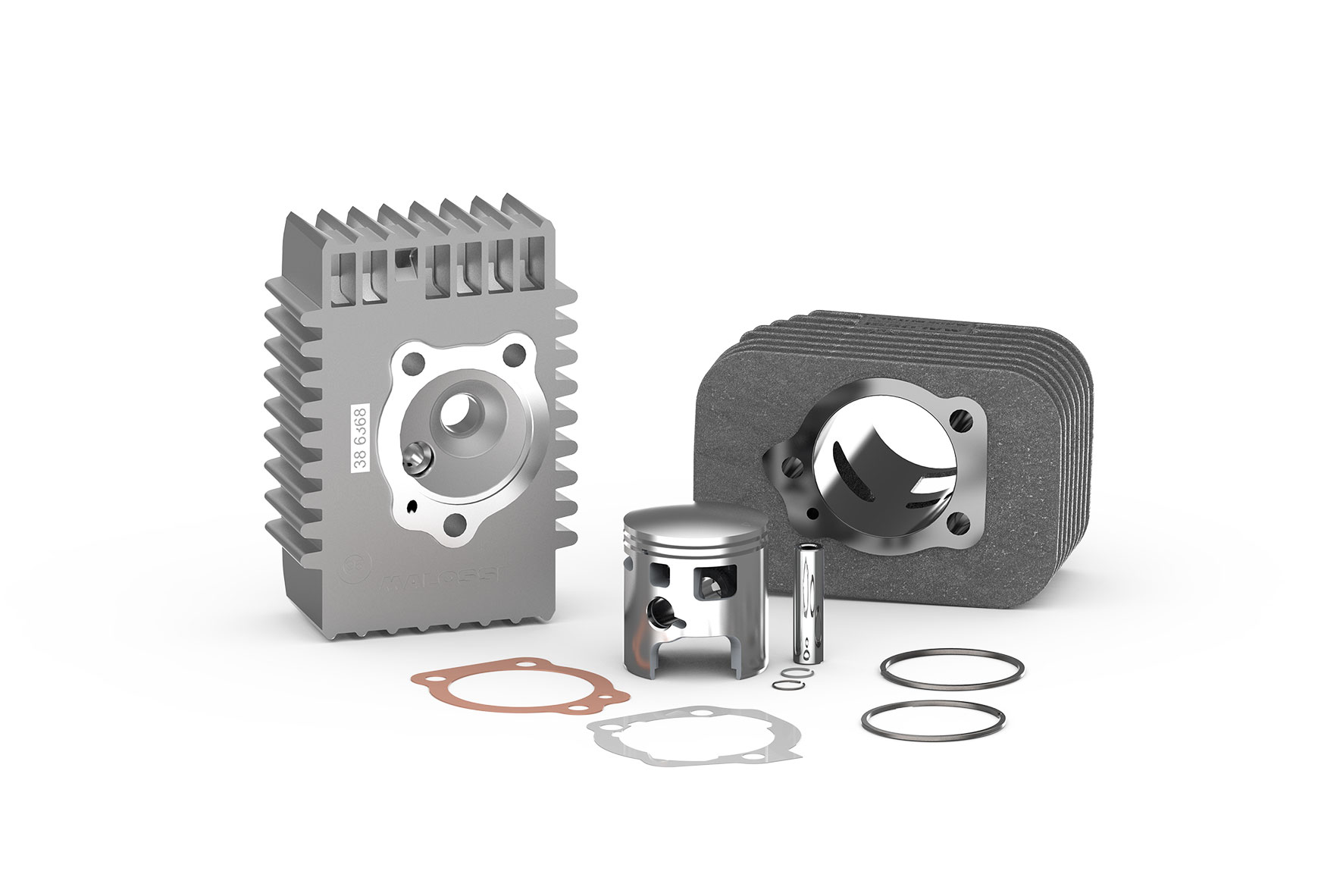 cast-iron cylinder kit ø 46,5 pin ø 10
167.95€
Add to cart